Our company history - get to know us
Toscana Landhäuser began with a declaration of love for one of the most unique cultural landscapes in Europe. Love for the landscape, the people and the lifestyle turned a hobby into a profession more than 30 years ago – in 1982, to be precise.
At the beginning of the eighties, when Tuscany was still considered an insider tip, our first vacation home rental took place. Some of our customers were the "alternative travelers" of the time, who were the first to "discover" Tuscany and spend their vacations there. They were also the first to buy the abandoned and partly or completely dilapidated farmhouses and to renovate them in a very simple or luxurious way. The boom at the beginning of the nineties brought significant success and saw Toscana Landhäuser GmbH flourish. Our presence on the internet with www.toscana.de dates back to 1995.
The availability of properties for rent grew due to strong demand for simple farmhouses, country homes, as well as villas, properties on wine-growing estates, family-led "agriturismo" businesses, and luxury homes. At the same time, the real estate market was establishing itself. Many clients who had spent years vacationing in Tuscany now wanted to buy something of their own. Landlords, who found the hassle of changeovers every week too much, wanted to sell.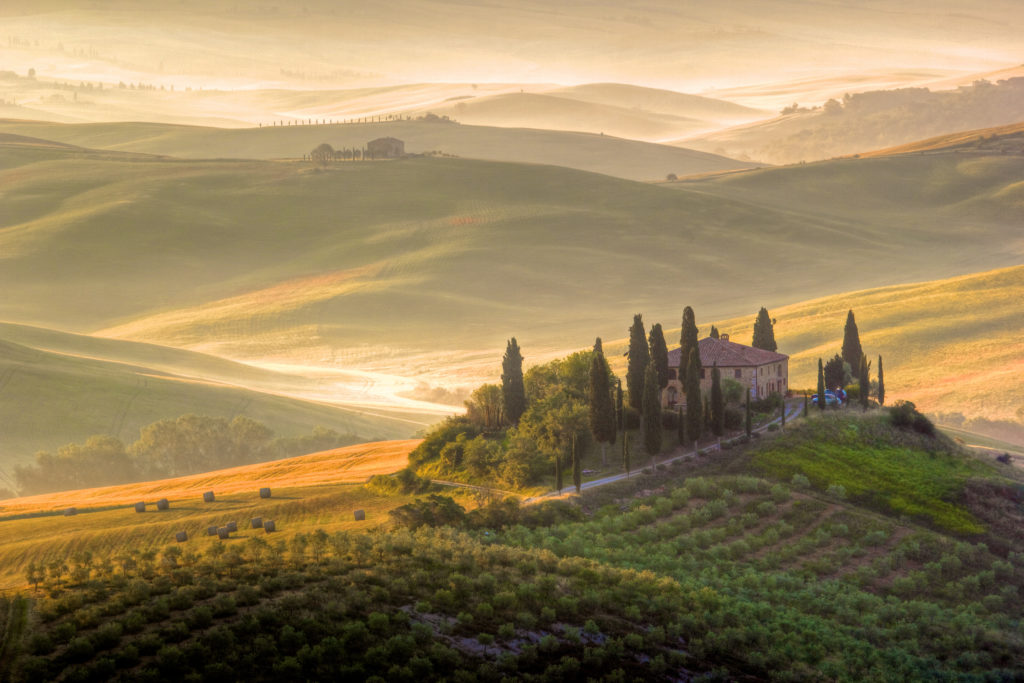 These many years of experience have brought with them very in-depth knowledge of the Tuscan market, which our customers can rely on. A life lived between two cultures has afforded us deep insight into the differences and similarities between them, and a fundamental understanding of all related aspects. We are happy to share this with our customers. As a customer, you will benefit from our experience through an offer of hand-picked, quality-checked properties, clear and reliable information, an individual real estate proposal according to your wishes and our personal support on site during the inspection and the subsequent purchase transaction.
Our initial passion for Tuscany is still the driving force behind this vocation. We can now place over 30 years of experience at the disposal of anyone looking for their dream property.
Our profound knowledge and a comprehensive market overview save you as a buyer a lot of time and get you into your dream property faster.
We provide you with a comprehensive network of reference for all eventualities in the vicinity of your future foreign property. Thus, you will be able to settle back and enjoy the benefits of your adoptive country more quickly.
Try us and see the difference.
Yours, Corinna Hohmuth and team
During the acquisition of our property in Tuscany, Ms. Hohmuth advised us in line with our needs and always independently. She always took the necessary time, be it during viewing or for the inevitable tasks and questions during the purchasing process, as well as afterwards. Her expertise and network helped us a lot throughout the buying process, but also afterwards.
Guardistallo, Pisa Region, Germany
09.12.2018
From the very start we received comprehensive consultation and assistance regarding all issues related to the real estate purchase (Italian tax number, Italian bank account, etc.). This included making sure we were well connected with important local contacts and residents.
Trinità d'Agultu e Vignola, Italy
17.01.2019
Stefan K.
Thank you very much for the competent and very good support during the purchase of our property in Italy. I can recommend Mrs. Hohmuth without reservation.
CALDANA, Italy
09.09.2019
Michael W.
Confidentiality, professionalism, knowledge of the country including language and networks are priceless assets.
Liscia di Vacca, Italy
05.06.2021
Arndt G.
Our real estate agent, Corinna Hohmuth, was very committed, competent, and provided comprehensive support during the purchase of our property abroad. Thanks to her many years of experience, she was able to provide us with helpful information in all relevant areas. Her answers were always timely and appropriate.
Lupsingen, Switzerland
01.08.2021
Michael T.